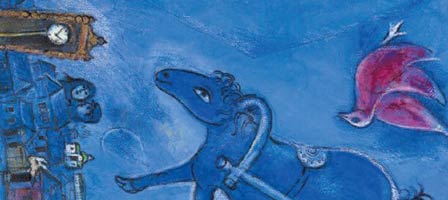 Rome, Museo dell'Ara Pacis, Lungotevere in Augusta – 'Chagall. Il mondo sottosopra'
22nd December 2010 – 27th March 2011, Tuesday-Sunday: 9.00 am – 7.00 pm
On the 25th anniversary of his death, this major exhibition features around 130 paintings and drawings by Chagall, some of which are previously unseen. The exhibits have come from private collections as well as from museums such as the Pompidou centre in Paris and the Chagall museum in Nice.

Photo-gallery on Flickr from the Rome council museum blog
Exhibition information on the Museo dell'Ara Pacis site
Rome ticket booking