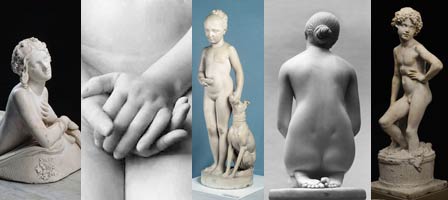 Florence, Galleria dell'Accademia, 'Lorenzo Bartolini, Scultore del Bello Naturale'
31st May to 6th November 2011 – now extended until January 8th 2012.
Lorenzo Bartolini (1777 – 1850) was born near Prato in Tuscany and was a neoclassicist sculptor – the title of this exhibition casts his works as pieces capturing 'natural beauty'.
The exhibition, the first dedicated to Bartolini, is born in the incredible collection of alabaster works by the artist held in the 'Gipsoteca' of the gallery (as in gypsum), and goes on to demonstrate the rarefied quality of Bartolini's work as well as the wide and varied range of interests and themes, reflected in the dominating sensibilities of the 19th century … sentimentalism, memory, cultural and civic values.
His great patron was Napoleon, and it was Napoleon's sister, Elisa, who recommended him for the post of director at the academy of sculpture in Carrara (where's quarried the famous white marble); there he stayed until the fall of Napoleon, moving back to Florence where he survived largely thanks to commissions from foreign patrons.
The exhibition chronicles his most important commissioned sculptures as well as decorative works; Florence was clearly the prime destination of any European Grand Tour during the Restoration, and Bartolini was much sought after for his portrait work … the list includes names like Byron, Liszt, Rossini, Lord and Lady Burghersh, the Marquis of Londonderry, the Demidoffs … and so on. Equally impressive is the list of contributing galleries, not least the Louvre and the Hermitage.
As ever, when the Florence Galleries hold special exhibitions such as the above, ticket prices are increased. The extra fees are always included in our ticket prices, and are mandatory.
Book tickets for the Accademia and Michelangelo's David, Florence