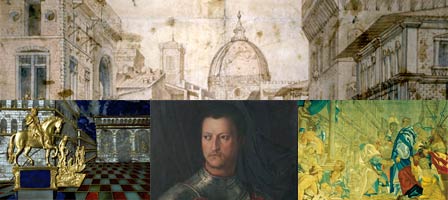 Uffizi Gallery, Florence, 14th June – 30th October 2011 – now extended until January 8th 2012.
'Vasari, Gli Uffizi e Il Duca'
Five hundred years on from the birth of Giorgio Vasari (1511-1574), this exhibition celebrates Vasari, Cosimo the Medici Duke ('Il Duca' of the title) and the birth of the Uffizi, where work started 1559-1560. The Uffizi – the name derives from uffici meaning offices – was conceived as an urban development, a seat of administration as a new heart to the city, an architectural statement as opposed to a simple building, and was the fruit of a close relationship between Cosimo I and his preferred artist, Vasari.
The building sought to weld together the existing Palazzo Vecchio and the Palazzo Pitti (on the other side of the river Arno), stamping the power of the Medici clan on the city in the form of grand architecture. The two structures are to this day linked by the Vasari Corridor, the latterday arial walkway that marches atop the Pontevecchio.
Said to have coined the term 'Renaissance' – rinascita – in print, it is in print that many come know the name Vasari, courtesy of his two volumes of 'Lives of the artists', on show here alongside his sonnets, letters, designs and other works.
As ever, when the Florence Galleries hold special exhibitions such as the above, ticket prices are increased. The extra fees are always included in our ticket prices, and are mandatory.