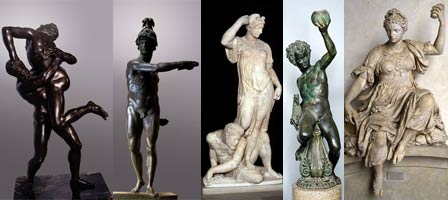 Florence, Bargello Gallery, 'L'Acqua, La Pietra, il Fuoco – Bartolomeo Ammannati Scultore'
May 11th to September 18th 2011
Bartolomeo Ammannati Bartolomeo (1511 – 1592), perhaps better known as an architect than a sculptor, was born in Settignano near Florence. The Bargello is home to the vast majority of his sculptures, and the title of the show – 'Water, Stone and Fire' – alludes to its central theme, the three very important fountains by Ammannati; the first, intended for the Salone dei Cinquecento in the Palazzo Vecchio (the 'town hall', the main building in Piazza della Signoria), the second for Piazza della Signoria itself, the statue of Neptune (Nettuno, aka 'del Biancone', the 'big white'), and the third for the Medici villa at Castello.
The exhibition will see the reconstruction of the first of these, in the Bargello courtyard.
As ever, when the Florence Galleries hold special exhibitions such as the above, ticket prices are increased. The extra fees are always included in our ticket prices, and are mandatory.