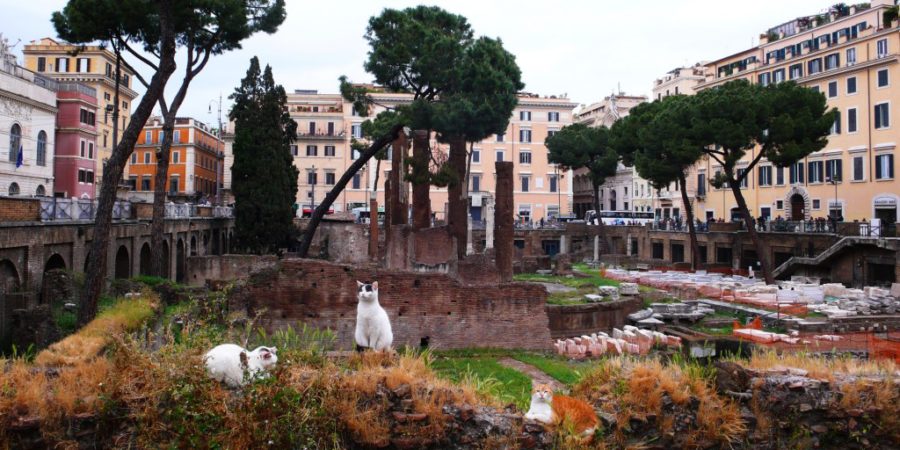 Today is National Cat Day in Italy, and we wanted to celebrate by telling you the story of perhaps one of the most beautiful cat sanctuary: the Torre Argentina Cat Sanctuary.
The shelter is home to around 150 cats and it is located in the ancient ruins of Largo di Torre Argentina, in Rome, a few steps away from Trastevere.
But how did an ancient ruin site become a cat shelter? We'll have to dig (pun intended) deeper to unearth the story. Once the temple ruins excavation ended, in 1929, feral cats were drawn to the area, sheltered by the Roman pillars and fed by the locals. In the 50s the actor Antonio Crast found the old warehouse, where archaeologists stored their tools back in the 20s. he began feeding the cats there and the keys to the warehouse were passed down until they landed in the hands of the founders of the sanctuary, including Lia Dequel. The shelter has grown considerably and volunteers come every day to feed, care for and vaccinate the cats. The shelter's main goal is to sterilise the cats in order to control the feral cat population, and they have also offered their help to other colonies – to about 27,000 of them in fact! Cats are also up to adoptions, as they hope many of the shelter's most luxurious residence end up in a good forever home.
The shelter is open for visitors every day and also provides a loving home to handicapped and elderly cats – those who tend to be overlooked. Visitors can also purchase souvenirs made by volunteers, which go towards the funding of the shelter.
In 2012 the shelter faced closure when the national archaeological officials demanded the eviction of the sanctuary from the ruins; luckily over 30,000 signatures were collected in order to preserve the sanctuary, although it is always at risk of closure and relies heavily on donations – if you wish to contribute, you can do so at this link https://www.gattidiroma.net/web/en/donate/
If you have been to Rome before, you certainly stopped at the tram 8 stop and spent few minutes looking at these furry residents – they are part of the charm of the eternal city. Largo Argentina would not be the same without them!