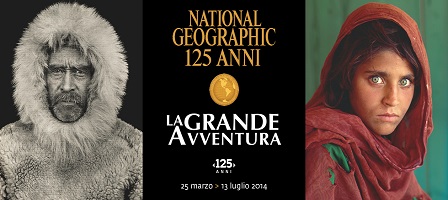 'National Geographic, 125 anni. La grande avventura.'
Palazzo delle esposizioni, Rome
25th March – 13th July 2014
If you're visiting Rome this summer, make sure not to miss this wonderful photographic exhibition, which celebrates the 125 years since 33 men in Washington, DC, founded a group aimed at increasing and promoting geographic knowledge, never imagining the scale and effect that the National Geographic Society would prove to have worldwide.
This exhibition, entitled "The Great Adventure", examines National Geographic's impact all over the globe, which includes the founding of National Geographic Italy fifteen years ago.
The collection includes photos of legendary historical figures, scientific research, and expeditions to all corners of the earth, photos of all cultures, including unknown tribes, and of wildlife, the conservation of Mother Earth, and countless other subjects.
Among these are epic depictions of the discovery of Machu Picchu, Robert Peary's intrepid exhibition to the North Pole, magical moments captured between Jane Goodall and her chimpanzees, and some of the incredible underwater enterprises taken on by Jacques Cousteau and James Cameron.
Apart from the subjects of the photos themselves, the exhibition delivers a clear insight into the technological developments that have taken place over the course of these 125 years, from the very first photos ever printed in magazines up to what is taken for granted today.
Above all, what is on display is a representation of the true passion that all of National Geographic's contributors have always put into their work, into the capture of the world's phenomena, and into the worldwide distribution and advancement of photography.
Opening hours:
Sunday, Tuesday, Wednesday, Thursday – 10.00 – 20.00
Friday and Saturday – 10.00 – 22.30