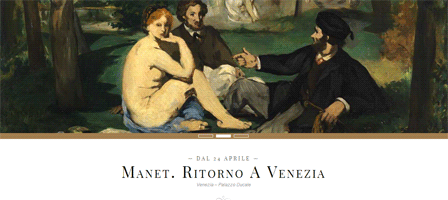 'Manet, Ritorno A Venezia'
Palazzo Ducale, Venice
26th April – 18th August 2013
'Manet returns to Venice' is the title of this important exhibition to be held in some of the larger rooms at the Doge's Palace in Venice. Please note that we do sell tickets for the Palazzo Ducale but that the price for this exhibition is not covered, you will, should you wish to visit the exhibition, need to acquire a ticket on the spot.
The exhibition has as a central theme the very strong ties between Manet and Italy, especially Venice, ties and influences that, the exhibition would have, are as strong as those with Spain and Spanish art. Across more than 150 pieces loaned from many notable international museums and collections, most significantly the Musée d'Orsay, the exhibition throws up example after example of Italianate influence.
The exhibition is scheduled to run until the 18th of August but it's often the case that finish dates are extended.
Official exhibition site (Italian only)