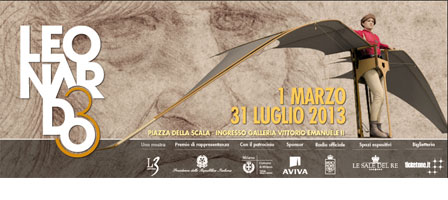 'Leonardo3 – Il Mondo di Leonardo
Piazza della Scala, Milan
1st March – 31st July 2013
Featuring digitized versions of Leonardo's masterpieces alongside working models of many of his incredible inventions, this is a multimedia exhibition bound to amaze. To quote from the official site:
The Submarine, the Time Machine, the Mechanical Dragonfly, the Flying Machine of Milan, the digital restoration of the Last Supper and the reconstruction of the Sforza Monument are some of the most recent innovative additions to the exhibition.
This is not an ecent for which we sell tickets, but there are ticketing links on the official site, link below.
Official exhibition site
Ticket booking for Leonardo's Last Supper