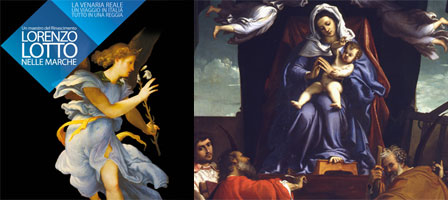 'Lorenzo Lotto nelle Marche'
Venaria Reale, Turin
9th March – 7th July 2013
Until recently on show at the Pushkin Museum in Moscow, this exhibition arrives in Turin with ten additional works from various Italian churches and museums. As the title suggests, the exhibition features works dating to the Renaissance master's stay in the Marche region of Italy.
To quote from the official site:
Lotto's works for the Marche region marked one of the highest points in his artistic creation and in the Italian Renaissance. Devotional paintings commissioned for private and public collections, portraits and secular allegories illustrate the extraordinary and eccentric biography and stylistic journey of this great artist.
Link to pages on Venaria Reale site.
Link to the official project site