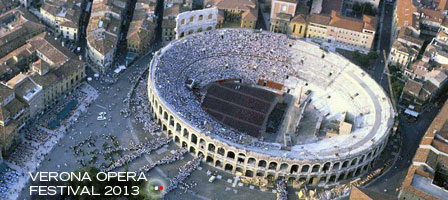 Next year, 2013, will be a big one for the Verona Opera Festival – its centenary! There will be some special events and some big names, of course, but from the little information already released it's clear that the main centenary 'special' is a 're-evocation' of the Aida of 1913.
We're likely to be able to begin taking bookings after the summer of this year, 2012.
The definitive schedule for the 2013 Verona Opera Festival is as follows:
Aida 'new' – 14th, 23rd and 27th June; 3rd, 7th, 9th, 14th, 18th, 21st, and 28th July; 3rd August.
Aida 1913 – 10th, 17th, 24th and 29th August; 1st, 3rd and 8th September
Nabucco – 15th, 21st and 29th June; 4th, 11th and 25th July; 1st, 4th, 11th, 14th, 18th (with Plácido Domingo as Nabucco) and 21st August; 5th September.
La Traviata – 22nd and 28th June; 5th, 12th, 19th, 23rd and 26th July; 2nd and 8th August.
Il Trovatore – 6th, 12th, 20th, 24th and 27th July.
Rigoletto – 9th, 13th, 16th, 23rd and 30th August; 6th September.
Romeo and Juliet – 31st August; 4th and 7th September.
There's also Verdi's Requiem Mass on the 13th of July as well as three gala concerts – Verdi on July 17th, Plácido Domingo and Daniel Harding on 15th August, and a Plácido Domingo gala on 20th August.