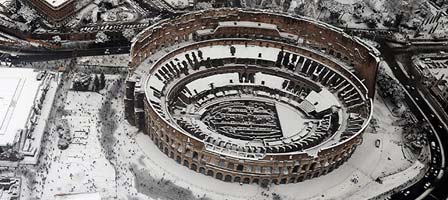 Update – good news … at time of writing (February 9th) the Colosseum has reopened to visitors, at least partially – the upper level ('Terzo Anello') is closed for reasons of safety.
Without wanting to be too gloomy, there is more snow forecast over coming days, and it is of course possible that the Colosseum will close again with little notice. We would ask that when placing an order you let us know if you're willing to visit on other days … in other words let us know the last day that you're able to visit should it prove necessary for us to try and reschedule your visit. Thanks, and fingers crossed!
Original message:
Snow. Colosseum closed.
This is a copy of the message we've just sent out to everyone due to visit the Colosseum in Rome over the coming days:
Hello from tickitaly.com where you are currently on record as being due to visit the Colosseum in Rome at some time this week.

You are likely aware that Rome has not been spared by the recent cold weather affecting Italy and the rest of Europe, and has had the highest level of snowfall in more than 30 years. The Colosseum has been closed to ALL visitors since Saturday the 4th of February. We have just been told that it will remain closed tomorrow, the 8th of February.

The official word is that it will reopen to visitors on the 9th of February. The less official word is that this is unlikely, especially given that more snow is predicted towards the end of the week. We are, regrettably, prepared for the Colosseum to remain closed until next week. As ever with all things Colosseum, hard information is thinner than the snow on the ground, and we can only deal with this from one day to the next. We have already rescheduled many visits only to see those too cancelled. We will of course refund all bookings that have been cancelled due to the Colosseum being closed, though we would ask that you are patient with us as regards this – the confusion at present is not hard to imagine.

You may well get lucky, you may get to visit as planned, but for now we would ask you to reply to this email indicating your flexibility on visiting the Colosseum. Just let us know the last date on which you'll be able to accept a rescheduled visit and we'll do what we can to get you in as soon as it reopens. If you can't (or don't want to) reschedule a visit then we'll refund your money on request. If however you're in Rome for a good few days more then let us know your disponibility …. 'I'll accept any day, any time up to the 15th of February' …. 'I can visit any morning before the 10th of February' … and we'll try to get you in.

Please accept our apologies for this disruption.