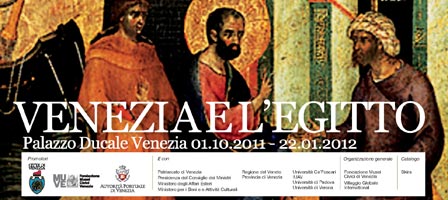 'Venezia e l'Egitto'
Venice, Palazzo Ducale, October 1st 2011 – January 22nd 2012
An exhibition on the theme of the relationship and the ties between Venice and Egypt across almost two thousand years, from ancient times up to the opening of the Suez Canal.
The splendid Sala dello Scrutinio of the Palazzo Ducale – Doge's Palace – in Venice will see more than 300 works gathered from national and international collections, explaining along the way why Venice, unique in Europe, had it's own name in Arabic from the beginning of the second millenium.
Unfortunately this show has not succeeded in attracting any benevolent private sponsors, and it seems likely that ticket prices will need to rise in order to avoid this exhibition making a loss.