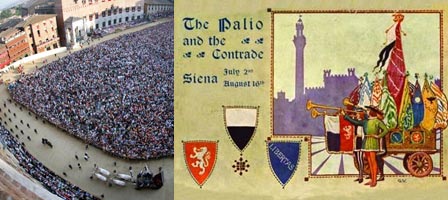 As of today, Friday 18th November 2011, we are beginning to take bookings for next year's Palio. For now we have various somewhat exclusive packages but we hope to be adding other offerings before too very long.
Siena Palio ticket reservations
If you'd like to be informed as soon as we are able to take orders for the Siena Palio 2012 edition, then please provide your email address below (in the box under the 'Email Address' label) to sign up for notification.
Press the 'Subscribe now' button and you'll be sent an email with an opt-in link that you'll need to click to confirm subscription – you'll then be shown a web page confirming that your subscription is active. That's it, nothing else to do, and we hope to be contacting you before too very long! Thanks.