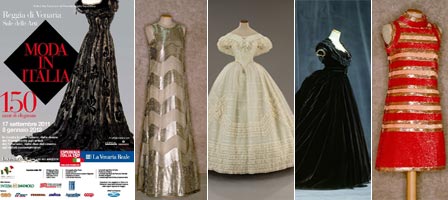 'Moda in Italia. 150 anni di eleganza.'
Turin – Venaria Reale, Reggia di Venaria, Sale delle Arti
17th September 2011 – 8th January 2012
Part of the continuing celebrations of 150 years of Italian unification, this exhibition ('Fashion in Italy, 150 years of elegance') is a journey through Italian style from 1861 to the present day.
The exhibition narrates the story of Italian fashion from Unification to this day as seen through the expert eyes of two protagonists of the fashion scene: costume designer and 1994 Academy Award Winner Gabriella Pescucci and fashion journalist Franca Sozzani, editor-in-chief of Vogue Italia since 1988.
Exhibition information on the official venue site
Italy ticket reservations