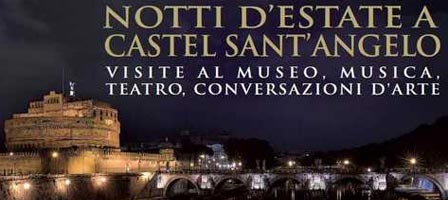 'Notti d'estate a Castel Sant'Angelo', Rome
July 1st – September 4th 2011
A series of Summer events at the 'Angel's Castle', one of Rome's most imposing monuments. Every night of the week apart from Mondays will see some special after-dark cultural event taking place.
Tuesdays and Sundays see visitors able to view areas ordinarily closed to the public; Wednesdays and Fridays have musical events, Thursdays readings and conversations on 'things art', Saturdays have theatrical spectaculars and Sundays see unveilings of hidden Rome.
Official page, Italian only for now
Rome guided tour, with visit to Castel Sant'Angelo
Rome ticket booking