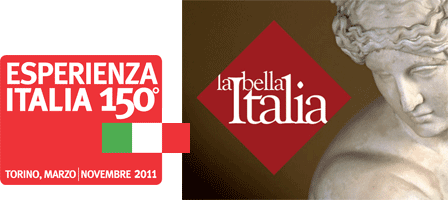 'La bella Italia'
Turin, Juvarra's Stables, Reggia di Venaria
17th March to 11th September 2011
We've already written about this exhibition when we covered upcoming events in Florence for 2011. As written in that post, this exhibition will be coming to Florence after a run in Turin, and said Turin opening took place yesterday, March 17th 2011, on the occasion on Italy's 150 birthday party.
There is now an English language page on the Venaria site, from where comes the following quote:
Italian Art as you have never seen it.
In the imposing setting of Juvarra's Stables at the Reggia di Venaria, more than 300 masterpieces will bring visitors on a journey that spans from the Middle Ages to the eve of 1861 through the capitals of Italy before Unification: Turin, Florence, Rome, Milan, Venice, Genoa, Bologna, Naples, and Palermo. The exhibition presents a portrait of various cities, their culture, traditions, historical and artistic heritage, as seen by great artists who made history: Giotto, Fra Angelico, Donatello, Botticelli, Leonardo, Raphael, Michelangelo, Correggio, Bronzino, Titian, Veronese, Caravaggio, Rubens, Tiepolo, Canova, Hayez, and many more.
The art and the style that emerge from this display are typically, truly Italian.