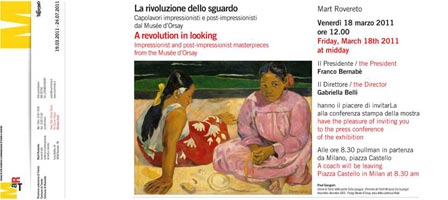 MART, Rovereto, near Trento
19th March – 24th July 2011
'La rivoluzione dello sguardo. Capolavori impressionisti e post-impressionisti dal Musée d'Orsay'
The press release from the Ministry of Culture/MART translates the title of this show to 'A revolution in looking' …. hmmmm …. not quite right, that. The exhibition of 75 impressionist and post-impressionist masterpieces taken from Paris's Musée d'Orsay is curated by Isabelle Cahn of the Musée d'Orsay, and the following is from their page:
The Revolution of Perception: Impressionist and Post-Impressionist Masterpieces of the Musée d'Orsay, organised at the Museo d'Arte Moderna e Contemporanea di Trento e Rovereto, the largest museum of modern art in northern Italy, presents a panorama of the creative work of the second half of the 19th century in a thematic exhibition in eight sections: The Artist is no longer Alone; The Artist on the Fringe; Impressionist Locations; Shows and Entertainment; Listening to the Inner Voice; The Family; Masculine/Feminine; Paradise on Earth.
'Revolution of perception' is a better translation, for sure. The exhibition features works by all of the heavy-hitters – Monet, Cézanne, Pissarro, Sisley, Renoir, Degas, Toulouse-Lautrec, Van Gogh, Gauguin, Morisot, Vuillard, Bonnard, Denis, Courbet and others.