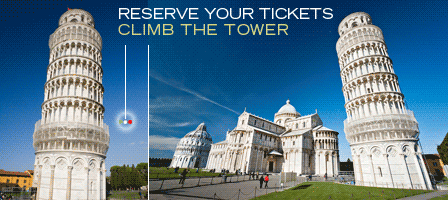 Tickitaly are delighted to be accepting reservations for the Leaning Tower of Pisa, and we'll use this blog post to try and answer some questions you may have about visiting this medieval wonder.
The Leaning Tower of Pisa (Torre Pendente, Torre di Pisa) is located in Piazza dei Miracoli, the 'Square of Miracles', aka Piazza del Duomo or Campo dei Miracoli. The tower is actually the belfry or belltower (campanile) of the adjacent cathedral, and is found slightly to the north-west of the city centre, roughly 10 minutes walk north of the river (Arno) that flows through the centre of Pisa.
The tower may be visited 7 days a week and, in 2011, these are the opening hours (last time shown is the last permitted ascent):
January – 10.00 to 16.30
February – 09.30 to 17.30
March – 09.00 to 17.30
April, May – 08.30 to 20.00
June, July, August – 08.30 to 23.00
September – 08.30 to 20.00
October – 09.00 to 19.00
November – 09.30 to 17.30
December – 10.00 to 16.30
You may ascend to the very top – it's quite a tight and steep climb (just under 300 steps) and children under the age of 8 are not allowed to climb the tower. As of early 2011 the eight year 'restoration' – cleaning and making good as opposed to the stabilisation works that were completed in 2011 – is complete, and Pisa's pride is finally, finally free of fencing and scaffolding, glowing white marble from top to bottom.
If you were to drive in from Pisa airport, assuming you didn't get lost, you'd need around 20 to 30 minutes. The airport (Galileo Galilei) is actually very, very close to Pisa's city centre – look out for the tower as you land or take off – but the route into town is a touch tortuous. Pisa is also infamous for it's ZTL zones (restricted vehicular access), and many a web forum is full of people who return home to receive a fine via their car hire company; you may want to avoid driving in if at all possible.
By train or bus it's under ten minutes from the airport to the central rail station, and from there it's a walk of under half an hour to the cathedral and tower – you'll cross right through the town, over the river, and it's a pleasant enough walk. There are also buses, or a taxi ride should cost you under 10 Euro. There are left luggage facilities at both the station and in the Piazza dei Miracoli.
One thing to remember if you're looking to make reservations is that you can not do so if your visit date is less than 15 days away, so you are advisied to book well in advance, especially as only 10 people may ascend the tower every 20 minutes.
Ticket booking for the Leaning Tower of Pisa
History of the Leaning Tower of Pisa