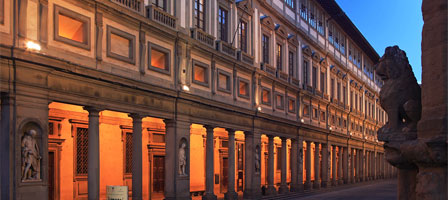 Settle down at the back – this is a Public Service Announcement. Below are the official rules of behaviour (as of September 2019) for all visitors to the Uffizi Gallery. From the 'durrrr' (you may not touch the paintings) to the 'damn' (no photographs or videos), the following is a list of things forbidden:
Touching any work of art.
Leaning on walls or on the base of statues.
Smoking.
Taking photographs or making recordings USING A FLASH … it is now permitted to take photographs providing no flash is used. The use of 'selfie sticks' is NOT allowed.
Consuming food or drink. The Uffizi does have a cafe, however.
Sitting on floors or barriers.
Shouting or talking in an overly loud voice.
Running.
Behaving in a manner not accordant with the dignity of the Museum.
Carrying of rucksacks, bags or umbrellas. There are lockers at the entrance and as of early 2016 bags (no larger than 40*40*50 cm) may be left there.
Using mobile telephones.
Using drones, mini-drones or similar devices.
Please be sure to minimise the number of bags (put smaller ones inside larger ones) and to group together all metal objects before passing through the metal detectors – this will speed up entry considerably. Please be aware that, as of October 2018, the security scanners at the Uffizi Gallery are now airport-style and that subsequent queues are now longer than before, especially on Tuesdays and weekends. Such security measures are mandatory for all visitors and may well affect you, even with a skip-the-line ticket. It is to be fervently hoped that organisation improves.
Tickets for the Uffizi Gallery, Florence
Tours of the Uffizi Gallery