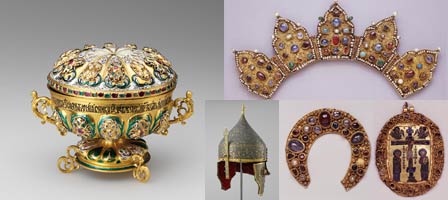 Palazzo Pitti, Silver Gallery – 27th May – 11th September 2011 – 'Il Tesoro del Cremlino'
This 'Treasures of the Kremlin' exhibition is the fruit of the 2011 'year of Italy/Russia' celebrations, an initiative that will see a reciprocal exhibition (Medici treasures) at the Kremlin museum in Moscow. The vast bulk of the exhibits for the Moscow show will come from the Silver Museum at the Palazzo Pitti, whereas the more than 150 pieces on show in Florence will have come from the famous Armoury Chamber of the Kremlin.
This range of objects, both everyday and ceremonial pieces, is one of the richest collections from one of the oldest museums in Russia, a treasure trove of splendour telling the story of Tsars across the centuries. The exhibition ranges across armour, jewelry, decorative embroidery, rich costumes, iconography, fabulously ornate ceremonial decorations and filigree work, all collected (and gifted) from across the globe – there are Byzantine pieces, Russian ones, Persian, Turkish and European … and on and on.
As ever, when the Florence Galleries hold special exhibitions such as the above, ticket prices are increased. The extra fees are always included in our ticket prices, and are mandatory.

Palazzo Pitti ticket booking