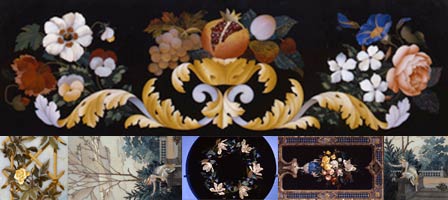 Palazzo Pitti, Modern Gallery, 17th May – 11th September 2011
'Dagli Splendori di Corte al Lusso Borghese, L'Opificio delle Pietre Dure nell'Italia Unita'
Next year, 2011, is the 150th anniversary of the unification of Italy and there will be many an event on and around this theme. Perhaps not the first thing you'd think of in this context would be works of Semi-precious stones, but nonetheless, that's the subject of this exhibition at the Modern Gallery of Florence's Pitti Palace.
The title translates as 'From the splendour of Court to bourgeois luxury, the Workshop of Semi-precious stones in a united Italy' … see this Wikipedia page for a background on this ancient Florentine institute.
Flowering under three centuries of patronage by the Grand Dukes of Tuscany, these fabulously ornate and skilled works, developed from Byzantine inlay techniques, found a wider market after the unification of Italy, notably with the Tzar of Russia and Ludwig II of Bavaria.
This is the first ever exhibition to focus on these later activities and works, and features decorated wall panels, table tops, scluptures, decoratove objects and beautifully inlaid boxes.
As ever, when the Florence Galleries hold special exhibitions such as the above, ticket prices are increased. The extra fees are always included in our ticket prices, and are mandatory.