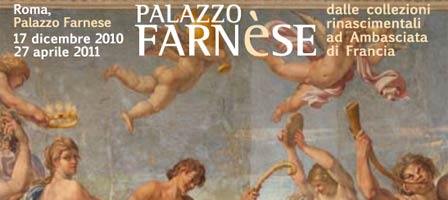 'Palazzo Farnèse – Dalle collezioni rinascimentali ad Ambasciata di Francia'
Rome, Palazzo Farnese, 186 Via Giulia
17th December 2010 – 27th April 2011
Mondays and Wednesdays, 09.00 to 19.00, Thursday to Sunday, 09.00 to 21.00
Another 'Public Service Announcement' as we're not selling tickets for this, but it's a major new exhibition likely to be of interest to many a visitor to Rome. No trace of English, but the official site is here.
Visitors can admire over 150 works – statues, paintings, sculptures, ceramics, tapestries and more, all bringing to life more than 500 years of the building's history, from the days of it being a Renaissance palace up to today, the French Embassy in Rome (as it has been for the past 135 years).
The Farnese family is long gone, but the exhibition sees many works from the Farnese collections 'coming home'.