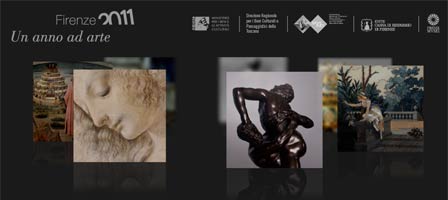 This is a preliminary post (dates have just been announced) with scant details of the major art exhibitions being held in the Florentine State Museums next year, 2011. We'll add more detailed posts on the individual shows as soon as we've translated the information (and as soon as it has stopped snowing)!
*** Updated: we now have more detailed information on all of these major exhibitions and have added links for each of them.
Uffizi Gallery, 8th March – 12th June – 'Figure, Memorie, Spazio Disegni da Fra'Angelico a Leonardo' [Link]
Uffizi Gallery, 14th June – 30th October – 'Vasari, Gli Uffizi e Il Duca' [Link]
Galleria dell' Accademia – 31st May – 6th November – 'Lorenzo Bartolini, Scultore del Bello Naturale' [Link]
Bargello – 11th May – 18th September 2011 – 'L'Acqua, La Pietra, il Fuoco, Bartolomeo Ammannati Scultore' [Link]
Palazzo Pitti, Modern Gallery – 17th May – 11th September – 'Dagli Splendori di Corte al Lusso Borghese, L'Opificio delle Pietre Dure nell'Italia Unita' [Link]
Palazzo Pitti, Silver Gallery – 27th May – 11th September – 'Il Tesoro del Cremlino' [Link]
Palazzo Pitti – 11th October 2011 – 4th March 2012 – 'La Bella Italia, Arte e Identita delle Citta Capitali' [Link]
As ever, when the Florence Galleries hold special exhibitions such as the above, ticket prices are increased. The extra fees are always included in our ticket prices, and are mandatory.
Uffizi tickets, Accademia (David) tickets, Pitti Palace tickets, Bargello tickets