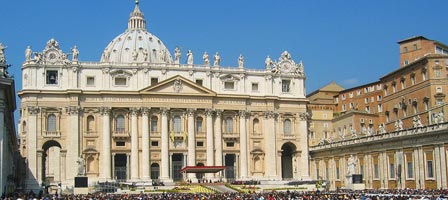 You cannot organise taking part in a Papal Audience online … no email, just nice old fashioned post or yesterday's technology, fax. Neither does it cost anything. To quote from the Vatican's own site, then:
Important Notice: TICKETS ARE ENTIRELY FREE and can be picked up at the ticket office located just inside the Bronze Door (by the right colonnade of St. Peter's Square) at the following times:

For GENERAL AUDIENCES: from 15:00 to 19:30 on the preceding day or on the morning of the audience from 8:00 to 10:30. For LITURGICAL CERIMONIES: on the preceding day or according to prior notification.
You'll find address details and fax numbers, as well as a downloadable application form on this page, and the current calendar/schedule may be viewed on this page.
Book Rome tickets
Arrange a tour of the Vatican
Reserve Vatican tickets