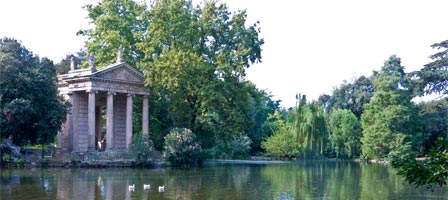 If you're in Rome and visiting the Borghese Gallery, do try to leave some time for visiting the gardens there. They form the second largest public park in Rome, covering as they do almost one hundred and fifty acres, much of which was remodelled in the formal English style during the 19th century.
The gardens are easily reached via the Spanish Steps or from Piazza del Popolo, and, as can be seen in the videos below, the views from the Pincio hill to the south of the park are some of the finest of all Rome.
If you only have a short time to spend here, consider renting bicycles to cover more ground.

Rome authority site (Italian only)
Wikipedia on the Villa Borghese Gardens
Reservations for the Borghese Gallery
Borghese Gallery visitor information