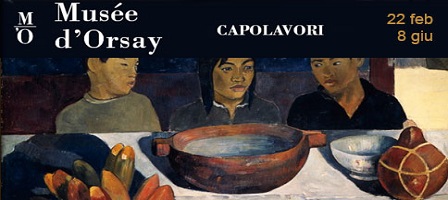 'Musée d'Orsay. Capolavori'
Complesso del Vittoriano, Rome
22nd February – 8th June 2014
For the next few months until the 8th of June, the Vittoriano Museum Complex in Rome is the host venue of a wonderful collection on loan from Paris's "Musée d'Orsay".
The Vittoriano, or "Altar of the Fatherland", is an attraction worth visiting in itself, a magnificent monument that contains the famous "Tomb of an Unknown Soldier" and provides a beautiful viewpoint over the centre of Rome.
The exhibition contains an assortment of masterpieces, all produced between 1848 and 1914 by some of France's greatest artists, Gauguin, Monet, Dégas, Sisley, Pissarro, Van Gogh, Manet, Corot and Seurat, to name just a few.
Visitors will be taken on a "journey" of sorts, an exploration of some of the major artistic movements of the time, beginning with the more classical style of the Salon, moving on to the Impressionist revolution, and finally investigating the output of the Nabis and of the Symbolists, and of the modern vanguards that followed them in the early 20th century.
The quality of the selection of around 70 pieces of art demonstrates the importance of this loan to the Vittoriano, and explains how the Musée d'Orsay, a former train station in the heart of Paris, became one of the most important and well-known museums in the world.
Opening hours:
Monday – Thursday: 9.30 – 19.30
Friday and Saturday: 9.30 – 23.00
Sunday: 9.30 – 20.30