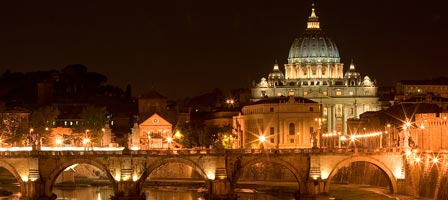 Vatican – late night openings, 2013
From early May until the end of October 2013 – excluding the month of August – it will once again be possible to visit the Vatican after dark, every Friday evening from 19.00 to 23.00.
An unusual opportunity to visit the Vatican and Sistine Chapel by night, this year the evening will be rendered more interesting … various rooms and sections will be enhanced by a backdrop of classical music and assorted special events under the banner of 'Il Bello da Sentire' in conjunction with La Venaria Reale in Turin and the Turin State Conservatory. There will be performances of works by Brahms and Debussy, Beethoven and Respighi, Piazzolla and Mendelssohn.
Please note that although closing time is at 23.00, the last entry is granted at 21.30, so don't leave it too late if you're planning on taking advantage of this interesting opportunity.