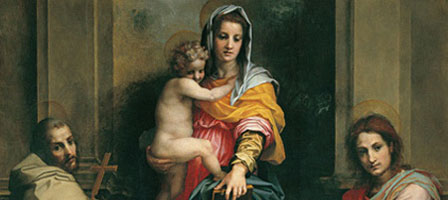 'The Grand Prince. Ferdinando de' Medici (1663-1713) Collector and Patron of the Arts'
Uffizi Gallery, 25th June 2013 – 6th January 2014
He never made it to the throne, so not a Grand Duke of the Medici clan, but Grand Prince Ferdinand (1663-1713) epitomises all that was remarkable about the art collections and patronage of this most remarkable of families.
Such was his passion for the Baroque, so diverse were his interests, that this large exhibition is divided into eight distinct thematic sections, from family portraits, early collected works, major architectural projects (the Palazzo Pitti and Florence's Cathedral benefited from restoration works under his tutelage), to his later collecting years and such important pieces as Andrea del Sarto's Madonna of the Harpies, Lanfranco's Ectasy of St. Margaret of Cortona, Annibale Carracci's Farnese Altarpiece, and the Madonna of the Long Neck by Parmigianino.