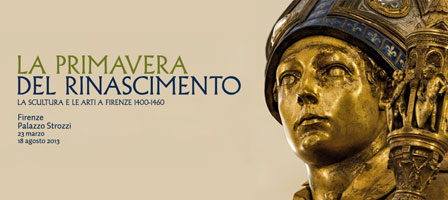 'La primavera del Rinascimento. La scultura e le arti a Firenze 1400-1460'
Florence, Palazzo Strozzi
23rd March – 18th August 2013
'The Springtime of the Renaissance. Sculpture and the Arts in Florence, 1400-1460' aims to demonstrate, largely through sculptural pieces, the 'miracle' of the Renaissance, forged in the crucible that was Florence at the beginning of the 15th century.
The exhibition is themed across 10 distinct sections, and features works by Nicolo Pisano, Arnolfo di Cambio, Lorenzo Ghiberti, Filippo Brunelleschi, Masaccio, Paolo Uccello, Andrea del Castagno and Filippo Lippi, plus an ongoing roll-call of Renaissance masters.
After Florence this major exhibition will move to the Louvre in Paris. We regret that this is a venue for which we are currently unable to sell tickets.