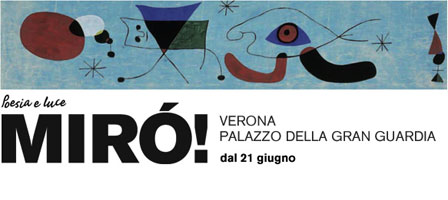 'Miró! Poetry and light'
Verona, Palazzo della Gran Guardia
21st June – 9th September 2012
Currently on show until the 10th of June in Rome, next stop for this exhibition is Verona.
When we first wrote about the show:
'Miró! Poetry and light' is a major exhibition in that it features more than 80 works by the Catalan maestro, 50 of which have not been seen before in Italy. There are large oil paintings, watercolours and works of sculpture in bronze and terracotta.
… the official site was empty … that's no longer the case, and there is some information in English.