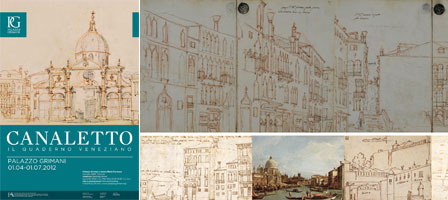 'Canaletto. Il Quaderno Veneziano'
Museo di Palazzo Grimani, Castello 4858 (Santa Maria Formosa), Venice
1st April – 1st July 2012
The title of this unique exhibition runs to 'Canaletto. The Venice Sketchbook/Notebook', albeit that the original sketches were loose sheets, bound only in the 19th century. The core of the exhibition is these said sketches of Venice, probably dating from a brief time period, and giving a fascinating insight (via notes, scribbles, comments on light, colours and settings) into the modus operandi of this great artist.
Also on show are numerous other pieces – sketches, scribbles, drafts – from collections both private and public. Entrance to this exhibition is covered through the purchase of a ticket for the Venice Academy.
Below is a short promotional video for the exhibition: