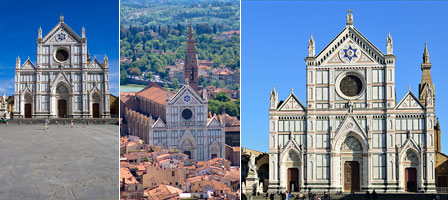 We're now offering advance ticket booking for the church of Santa Croce in Florence.
Perhaps watching 'Room With A View' was part of your pre-trip excitement, in which case you'll have seen Santa Croce already – the statue is that of Dante, located outside and in front of the church – he had been banished to Ravenna and was not buried in the church. Also not buried in the church, despite his hopes, is Nicolò Matas, the designer of the neo-Gothic façade. He was Jewish, and worked a large Star of David into the highest part of the façade.
The roll-call of those who were laid to rest in the church includes many illustrious names – Michelangelo, Galileo, Rossini, Machiavelli – and those with funerary monuments (but buried elsewhere) is equally impressive – Marconi, Fermi and Dante for example.
Please use the links below for both ticket booking and to learn more about the Santa Croce complex.
Santa Croce ticket booking
Information on the Santa Croce church and complex, Florence