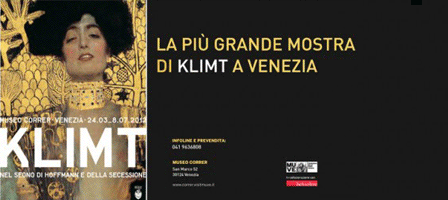 'Gustav Klimt. Nel segno di Hoffmann e della Secessione'
Museo Correr, Venice
24th March – 8th July 2012
'In the sign of Hoffmann and the Secession' is the title of this exhibition on the 150th anniversary of the birth of Gustav Klimt. On show are paintings, drawings, furniture and jewelry, as well as evidence of the special relationship between Klimt and Josef Hoffman, architect and interior designer.
The exhibition, through reconstructions and contemporary documents, attempts to frame the time leading up to the Viennese Secession, a cornerstone of European Modernism.
Please be aware that tickitaly do sell tickets for the Correr Museum but that this exhibition is not covered by said tickets – tickets for the show will need to be purchased directly.
Official site for this exhibition
Tickets for the Correr Museum, Venice