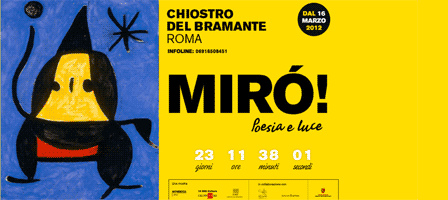 'Miró! Poesia e Luce'
Rome, Chiostro del Bramante
16th March – 10th June 2012
'Miró! Poetry and light' is a major exhibition in that it features more than 80 works by the Catalan maestro, 50 of which have not been seen before in Italy. There are large oil paintings, watercolours and works of sculpture in bronze and terracotta.
There is an official site for the exhibition (although at time of writing it is just a countdown placeholder) as well as a Facebook page.