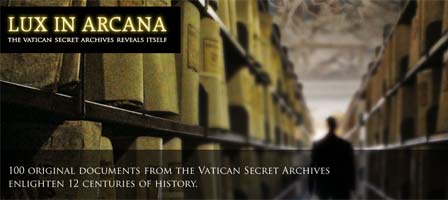 'Lux in arcana – The Vatican Secret Archives reveals itself'
Rome, Capitoline Museums, 1st March – September 2012
** Update, March 30th 2012 – we are now offering private guided tours of this remarkable exhibition
The title of this momentous exhibition is self-explanatory – this exhibition will see more than 100 unique documents leaving the Vatican City, seeing the 'lux' of day for the first time. Spanning 12 centuries of Vatican history, these works have been locked away for over 400 years within the secure confines of the Vatican City.
Conclaves, heresies, popes and emperors. Crusades, excommunications, ciphered letters. Manuscripts, codices, ancient parchments…
The exhibition which is conceived for the 4th Centenary of the foundation of the Vatican Secret Archives aims at explaining and describing what the Pope's archives are and how they work and, at the same time, at making the invisible visible, thus allowing access to some of the marvels enshrined in the Vatican Secret Archives' 85 linear kilometers of shelving; records of an extraordinary historical value, covering a time-span that stretches from the 8th to the 20th century.
The main commercial sponsor for this exhibition is the backup company EMC … archiving …. geddit?
Below is a short official 'teaser' video for the exhibition: