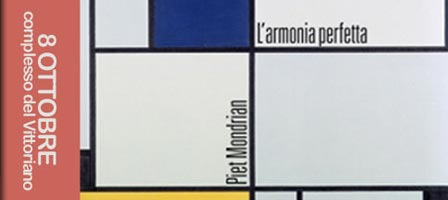 Piet Mondrian. L'armonia perfetta.
Rome, Complesso Vittoriano
7th October 2011 – 29th January 2012
A major exhibition of the works of Piet Mondrian, subtitled 'The Perfect Harmony', taking place at the Complesso Vittoriano in Rome. More than 70 oils and designs by the Dutch artist are displayed with around 40 works by other artists who inspired and influenced Mondrian, one of the greats of 20th century abstract art.
Works have been gathered from many sources, including notable international galleries such as the Philadelphia Art Museum and the National Gallery of Canada in Ottawa.