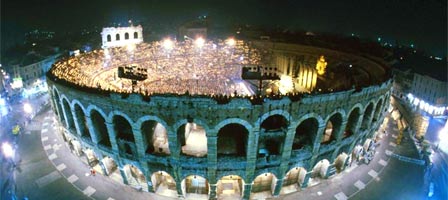 Very advance notice, this, but here below are the dates and performances for the 2012 Verona Opera Festival (if things runs like they did this year then we'd hope to be taking orders by the beginning of October 2011):
Aida – the 23rd & 28th of June; the 8th, 11th, 15th, 19th, 22nd, 24th, 28th July; 2nd, 5th, 9th, 12th, 19th and 26th of August; the 2nd of September.
Carmen – the 30th of June; the 5th, 10th, 13th, 17th, 20th and 27th of July; the 3rd, 7th, 10th, 24th, 28th and 31st of August.
Don Giovanni – the 22nd and 29th of June; the 6th, 12th, 18th and 25th of July.
Romeo and Juliet – the 7th, 14th, 21st and 26th of July.
Tosca – the 18th, 22nd, 25th and 29th of August; the 1st of September.
Turandot – the 4th, 8th, 11th, 17th, 23rd and 30th of August.