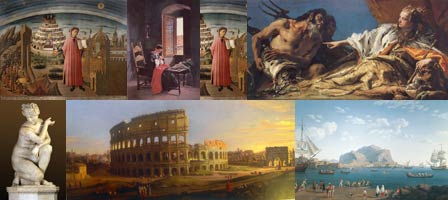 Florence, Palazzo Pitti – 11th October 2011 – 4th March 2012 – 'La Bella Italia, Arte e Identita delle Citta Capitali'
This major exhibition will be held in both Florence and Turin and is perhaps the most important event celebrating the 150th anniversary of the unification of Italy.
'La bella Italia. Art and identity of the capital cities' looks at the unique cultural and artistic identities and histories of the various capitals of the pre-unification Italy, to whit Turin, Florence, Milan, Venice, Genoa, Bologna, Naples and Palermo. More than 300 masterpieces track and bear witness to the progress of art from ancient times up to 1861, and this exhibition will begin life in Turin before heading south to Florence.
The roll call of artists on show is show-stoppingly impressive: Giotto, Beato Angelico, Donatello, Botticelli, Leonardo, Raphael, Michelangelo, Correggio, Bronzino, Titian, Veronese, Caravaggio, Rubens, Tiepolo, Canova, Hayez and many more. The video below is in part focused on the Turin 'leg' of the exhibition (from around 3 minutes in), and has a well, interesting, voice-over.
As ever, when the Florence Galleries hold special exhibitions such as the above, ticket prices are increased. Having spoken with the Florence organisers it seems that there is not yet a plan on ticketing for this event. The scale of the exhibition will likely mean it occupies the bulk of the Pitti, and as such there may well be a special 'card' introduced that will grant access to all of the Palace and it's various galleries; at present we sell two different tickets for the different areas of the Palace, and for the run of this exhibition both ticket types have an increased price.

Palazzo Pitti ticket booking