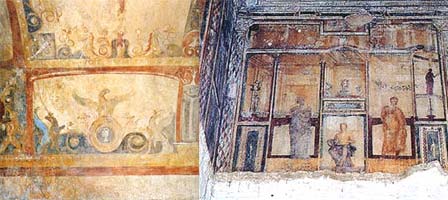 *** October 2014 – although full restoration is not expected to be finished until – at least – 2018, we are, finally, able to take bookings for weekend tours of the Domus Aurea. These are fully guided tours and it must be stressed that you'll be seeing very much a work-in-progress! Click here for tour details.
Is the Domus Aurea in Rome open to visitors? No. Is it likely to reopen before 2012? Again, sorry, no.
Having finally been reopened to visitors in 1999, the Domus Aurea closed again in 2005 because of water damage, to reopen once more in January, 2006 and then close again in December of the same year. It became a building site and this was briefly open to visitors in 2009 (the video below dates to that period, with only a few corridors open), only to close again as a result of collapses on the 30th March 2010. Nobody is even talking about when Nero's 'Golden Palace' may reopen, but it will be years, for sure. There is no way to visit and we are unable to take bookings.
The collapse in 2010 (see Reuters video here and a photographic slide show here) did not actually occur in part of the Domus Aurea proper, but in a connecting tunnel built by the Emperor Trajan in 106 A.D. It was Nero's successor, Emperor Hadrian, who, after having thoroughly looted and sacked Nero's palace, entombed it in earth to form the hill Colle Oppio, atop which he built a Roman Bath. It is this hill that has pressed down, collapsed and leached water down across the centuries, and work was already well under way to shore it up when the latest collapse occurred.
Book tickets for museums and galleries in Rome.
Book Vatican tickets.