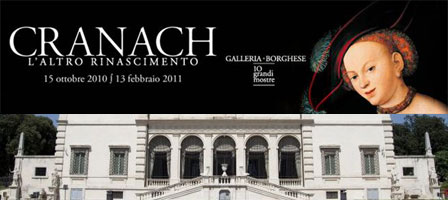 Borghese Gallery, Rome
'Lucas Cranach: L'altro Rinascimento'
15th October 2010 – 11th February 2011
For the first time in Italy an exhibition of works by Lucas Cranach il Vecchio, a leading light, together with Durer, of the 16th century rebirth (the 'other Renaissance' of the exhibition title) of German painting, and a close friend of Martin Luther.
The following is taken from the PDF press release for the event:
The Galleria Borghese will host about 45 of Cranach's most significant works, which come from the leading public collections in Europe and the United States. Several of them will be shown for the first time outside their permanent collection, while ten woodcuts demonstrate Cranach's incredible virtuosity and inventiveness in the graphic medium.

The exhibition in Rome aims in particular to broach and investigate a question that is still open, i.e. the relationship between Cranach's oeuvre and Italian Renaissance art at that time.
You may book tickets for the Borghese Gallery on our main site; as with all of our tickets, if you're visiting a gallery when there's a special exhibition taking place – such as this one – then the ticket price will be slightly higher than the standard 'non-exhibition' price to cover the cost of the exhibition entrance fee.