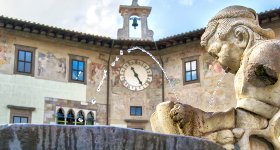 'Heart of Pisa' tour, 2 hour
Rapid confirmation.
Pisa's Piazza dei Miracoli - Field of Miracles - is home to one of the most famous buildings in the world but, beyond 'just' the Leaning Tower, it is also home to two other truly incredible buildings, the Cathedral and the Baptistery. This two-hour-long tour will cover the amazing history of these buildings and leave you with a deeper understanding of their significance before heading off into central Pisa to see the parts that most visitors, regrettably, don't get to see.
You will visit the interior of the Cathedral but this tour does not include your ticket to the Leaning Tower, although we do offer the tour with a visit to the Tower included.
Many visitors to Pisa are not aware of just what an incredible setting the Leaning Tower finds itself in, and the Baptistery and Cathedral - a perfect example of what is known as Pisan Romanesque architecture - are perhaps largely passed-by.
Remedy this with this two-hour tour that, of course, focuses largely on the unique Leaning Tower and its breathtaking history, but that also walks you around the other gems in the square. To be clear, this is largely an 'outdoors' walk but you will be visiting the interior of the Cathedral.
After the first part of the tour (roughly one hour in Piazza dei Miracoli) you'll be heading off into (nearby) central Pisa. You'll see the Church of San Sisto, pretty much the oldest church in Pisa, before entering the Piazza dei Cavalieri and the splendid painted Scuola Normale, home to one of the world's most famous ancient universities; the square is overlooked by the Conte Ugolino bell tower, featured in Dante's the Divine Comedy.
In 'Dante's Square' you'll see the Sapienza di Pisa, another ancient university and, along the banks of the River Arno you'll see many of Pisa's impressively-facaded Grand Ducal buildings, mixed in with numerous Gothic and Romanesque churches and all overseen by ancient fortifications, both medieval and Renaissance.
You'll wind along the bustling Borgo Stretto, the lively artery of Pisa, as you head back to the Piazza dei Miracoli and the Leaning Tower. Again, this tour does not include a ticket for the Leaning Tower but we do offer this tour with said ticket included.
You'll be met and accompanied by your licensed tour guide. Groups of six or more will be provided with an audio system and will be sure to miss nothing even when things are crowded.
The English language tour runs seven days a week at 11:15 AM.
5.0 stars out of 5 from 1 ratings.