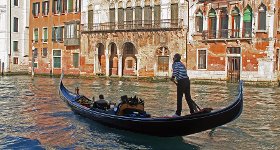 Venice boat & walking tour, small group
Lasting around three hours, this guided small-group (never more than 10 people) tour of the splendours of Venice includes a skip-the-lines tour of St Mark's Basilica, a tour of St Mark's Square, an exploration of the fascinating Rialto district of Venice, and finishes with an hour-long boat trip around the canals - including the Grand Canal - of Venice.
However much time you're lucky enough to spend in Venice, it's a simple fact that you'll not have done the city justice if you don't take to the water and explore the essential network of canals that are the true arteries of this adjective-exhausting city. This tour runs on Monday, Thursday and Saturday and heads off at 2.00 PM.
Your tour group will never be more than ten people so this is an intimate and personal discovery of Venice that begins with a visit the the 'Golden Church', St Mark's Basilica. There's no need to queue as your group has privileged access and, once inside, your local guide will give an introduction before escorting you to an area not easily reached by standard visitors, an area above the main church that is home to the famous 'Horses of St Mark' - the 'Triumphal Quadriga' - a set of Roman Bronzes that are the originals of the replicas sitting above the Loggia of the Basilica.
Next it's up to the hardly-ever-visited roof terrace for some of the most unique views of Venice imaginable!
Upon leaving the church your guide will explain the history of the the Piazza di San Marco and the iconic buildings that line it before heading into the Rialto district of the city to gain an insight into the daily life of Venice and the Venetians as you explore the city's labyrinthine network of narrow streets.
You'll next board your group's private boat and begin to explore the timeless world of Venice's canals, gliding through centuries of history and beginning to feel you're getting to discover the real Venice, a city of islands and enclaves, canals and byways, a city where boats are part of daily life, essential and ever-present. And then ... the Grand Canal, jaw-droppingly, camera-meltingly amazing, palace after palace, still-life frame after still-life frame - you'll even pass by one of the last Gondola workshops in Venice!
This will be a true day of discovery with a local guide, one committed to sharing the wonders of Venice, to bringing the city to life, to giving you unique memories to treasure.
5.0 stars out of 5 from 1 ratings.
CS, Australia
12th Mar 2017
The real highlight of our stay in Venice a very rewarding experience.