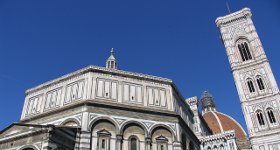 Florence Cathedral complex and Museum of Cathedral Works
A tour dedicated to this recently restored and expanded museum, dedicated to the history and artistic legacy of Florence Cathedral. The tour runs for around 3 hours and is fully accompanied by an English speaking tour guide.
The museum has undergone a massive amount of restoration and expansion and has only recently reopened. Please note that the name - the Museo dell'Opera del Duomo - has nothing at all to do with music, the 'Opera' in the name referring to 'works' as opposed to something by Puccini!
The tour last for around 3 hours and is a small group tour - never more than 15 people - that will see you accompanied by your English speaking tour guide all through the tour; the tour heads off at 09.30 in the morning and runs from April until October, every Monday, Wednesday and Friday.
The museum houses more than 750 sculptures and relief works in bronze, silver and marble, such as Michelangelo's famous pieta, Donatello's Magdalene, the reconstructed facade by Arnolfo di Cambio and the original bronze doors by Lorenzo Ghiberti.
You'll also be given a cumulative ticket that gives entrance to all of the above as well as Brunelleschi's dome (cupola) and the Campanile (Giotto's bell tower) that is valid for 24 hours from first use. This is important because it will give you independent access to the cupola and campanile, not itself included as part of the tour. So, tour plus ticket to enjoy the cupola as well as amazing views of the cathedral dome - cupola - from the top of the bell tower.
Please note that since the tour includes a visit to religious buildings there is a strict dress code - please do not wear shorts, sleeveless tee-shirts or other inappropriate clothing or you may be denied entry. There is a small reduction in ticket price for children under the age of twelve.