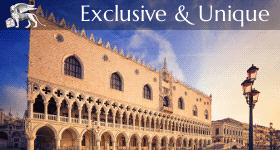 Exclusive Access: Venice Doge's Palace Secret Tour (1h 45m)
This tour only runs in the months of May, June, July and September, and has very limited availability.
This exclusive tickitaly.com English-language tour lasts about an hour and 45 minutes (starting at 1:15 PM), and offers an in-depth insight into the political history of Venice and an understanding of the incredible longevity of La Serenissima - The Most Serene Republic of Venice. Your experienced guide will not only cover the splendid chambers covered by other tours, but also give you an informative glimpse into the secret passages and chambers of the Palace.
If you fancy making an even more revealing journey into Venice's past then you might also want to book our guided tour of St Mark's Basilica - it follows on directly after this tour and you would be staying with the same tour guide for the duration, another 45 minutes or so.
Tour highlights:
The courtyard and Giants' staircase
The Golden Staircase
The Institutional Chambers
The Bridge of Sighs
The 'New' Prisons
The Dungeons
Casanova's Cell
The Torture Chamber
The attic of the Hall of the Great Council
The tour runs on Mondays, Wednesdays, Fridays, Saturdays and Sundays at 1.15 PM in May, June, July and September, meeting at the Porta della Carta at the Doge's Palace. If you're looking for a fuller insight into the incredible history of Venice then you might also want to book our exclusive guided tour of St Mark's Basilica, uncovering the 1000 year history of this amazingly ornate building, the religious heart of Venice; the tour takes place after this tour of the Doge's Palace but the two follow into each other, conducted as they are by the same tour guide - click here to view.
You will discover the Doge's Palace in every aspect, not only the lavish institutional rooms where the different Councils publicly administered the Republic, but also the secret parts where the darker side of Venetian justice was dealt: through secret doors and hidden passages you'll see the Chamber of Torture, hear how Casanova escaped from his cell against all odds, and learn how one of the largest rooms of Europe was built.
Your expert guide will tell you interesting stories and reveal funny anecdotes, while providing an informative introduction to the most important works of the Venetian Renaissance masters: Titian, Veronese and Tintoretto.
Please be aware that the route taken by this tour is often a restricted one, by its very nature. There are numerous steps and small inclines, often quite steep, and many of the passages are small and tight. For these reasons the tour is not for children under the ages of six, for pregnant women or for the disabled. Children under six will not be permitted to take part in this tour.