Reserve tickets for the Guggenheim Museum, Venice
The Peggy Guggenheim Collection, Venice, Italy - visitor information
Located on Venice's Grand Canal, the museum is often cited as one of the most significant - and eclectic - collections of modern art in the world. The collection of early 20th century European and American works is housed in a pleasantly intimate setting and has become one of the most visited attractions in Venice. It is ordinarily open all year round (closed just the 25th and 26th of December, plus each Tuesday) and is located in an interesting artistic area of Venice, looking out directly onto the Grand Canal.
The museum is located in an 18th century Venetian palace, the Palazzo Venier dei Leoni, home to Peggy Guggenheim for almost 30 years. Today's collection is effectively her own personal treasure trove of modern art, both painting and sculpture, showcasing her evident love of cubism, European abstraction, surrealism and abstract expressionism. She was an early champion of Max Ernst (whom she later married) and Jackson Pollock.

The roll call of artists on show is an impressive one - Picasso, Dalí, Magritte, Brancusi, Pollock, Braque, Duchamp, Léger, Severini, Picabia, de Chirico, Mondrian, Kandinsky, Miró, Giacometti, Klee, Gorky, Calder and Max Ernst for starters - but visitors do not feel overwhelmed as the setting is unusual, personal, very much retaining the feeling of a home.
Below is a floorplan of the museum.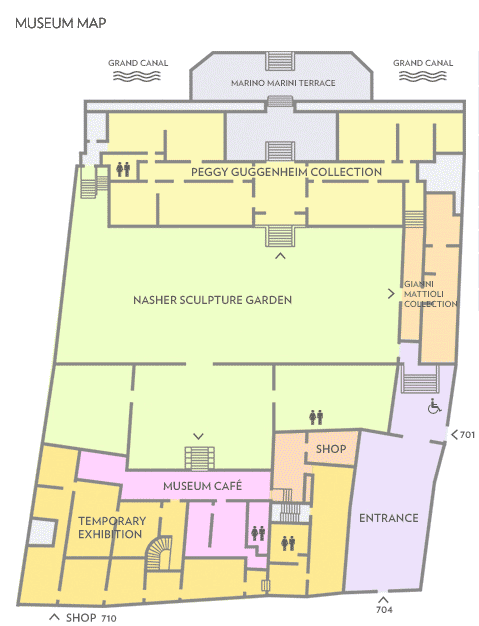 Reserve tickets for the Guggenheim Museum, Venice
Quick booking links:
Accademia tickets : Uffizi tickets : Uffizi guided tours : Colosseum tickets : Florence guided tours :
Vatican tickets : Vatican tours : Borghese tickets : Venice Museums : The Last Supper : Last Supper - tours : Verona Opera tickets : Pisa Tower tickets : Pompeii and Naples area tickets
Florence tickets : Rome tickets : Venice tickets : Milan tickets : Verona Opera