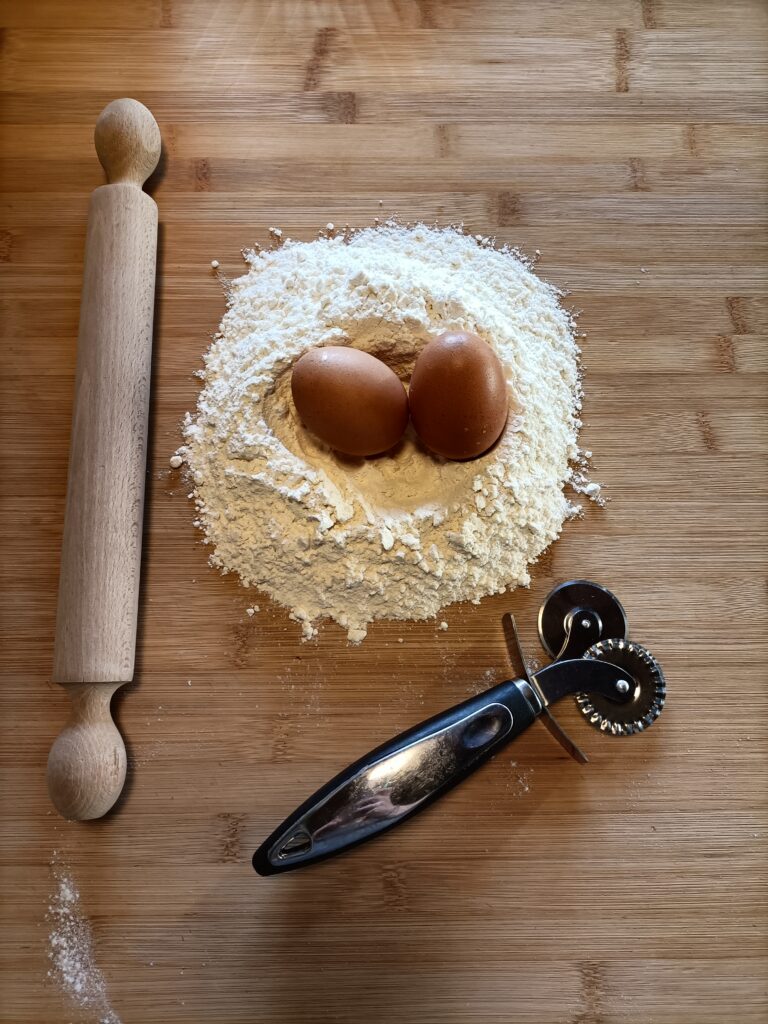 Serves 2
Ingredients:
2 eggs
200 gr of 00 Flour
For Filling:
Anything you fancy really. Easy ones are the ricotta or goat cheese ones, with some caramelised onions. Make sure you keep it in the fridge for a bit, to reduce water drainage.
Steps:
Place the flour on a wooden board and make a well in the centre, where you will crack the eggs open into it. Beat the eggs with a fork until smooth, slowly adding the flour to the mix. Bonus tip: if you wish to give colour to your dough, add beetroot, tomato paste or red wine to your dough whilst mixing it, it will become red tinted. For beetroot, make sure you cook it first and reduce it to a pulp.
When the dough starts becoming more "solid", it's time to ditch the fork and start using your hands: keep incorporating the flour, a little at a time, until everything is combined.
Start kneading the dough together! The best way to do it is to push the dough forward with the palm of your hand, then fold it and repeat. Keep doing this until evenly smooth and round.
Put your dough to rest: cover it with cling film (which helps retain the right amount of humidity) for 30 mins in a cool dry place.
Take your filling out.
Time to start rolling! If you have a pasta making machine, it will help you smooth your pasta sheets before cutting the shapes. But if you don't, fear not: all you need is your wooden board, a wooden rolling pin (for texture) and a bit of work.
Place some flour on the wooden board to prevent the though from sticking into it, and do the same to your rolling pin. Cut a piece of though and promptly cover the rest under cling film, so it won't dry out.
Now start rolling, either with your pin or using the pasta making machine. For the latter, make sure it's clamped to the surface. Set the machine on number 5 (the largest gap) and pass your dough through it, then fold and do it again. Once you have done it twice, fold it (it will need to become rectangular) and move the machine to number 4. Repeat the above for all numbers and, when it gets to 0, do it twice, to ensure the sheet is really thin.
Place your sheet on your wooden board. For ravioli, all you need is a square shape cutter. If you do not have it, you can make it with a piece of food paper: ideal size is approx. 2 cm each side.
Now cut your squares based on your mould. The pasta you cut out can be placed again under the cling film, with the rest of the dough, and reused to avoid waste!
Now place a bit of your filling in the centre of your square: for size, use a teaspoon.
The fun begins: fold two tips to make a triangle. Press the sides to close the dough tight. Once you've done this first bit, take the two opposite corners and join them at the back (almost like folding a bandana) and that's it, you have your first tortellone! Repeat until you finish the dough or the filling. If you have some cuts of dough or a lot of it left, use it to make maltagliati (badly cut shaped pasta) or tagliatelle!