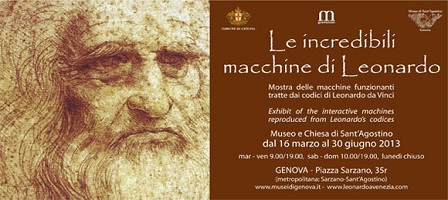 'Le incredibili macchine di Leonardo'
Chiesa e Museo di Sant'Agostino, Genoa
7th September 2013 – 29th June 2014
It's your last chance to visit this fascinating exhibition, which has been extended until the end of June due to its huge popularity.
The contents of the exhibition are dedicated to the genius of Leonardo da Vinci, and in particular to the machines that originated from his plans.
The models have been recreated with care and dedication by skilled Florentine artisans, using the same materials envisioned by the master himself. Among these are pieces constructed in wood, fabrics, bronze and brass, all closely following the themes of the exhibition, those of flight, mechanics, water and war.
The machines have been specifically crafted with the objective of being touched and tried out by visitors to the exhibition, with the aid of special handles and levers. You are encouraged to interact and experiment while at the same time observing a series of paintings and sculptures created by some of the most important artists operating in and around Genova in the 1500s and 1600s.
Also included in the exhibition is a selection of Leonardo's paintings, and a documentary film is played on a loop throughout. A special painting featuring an interpretation of the Last Supper by Roberto Altmann is also on display in the chancel of the church.
This collection of exhibits has previously been displayed in some of the world's major cities, including Vienna, Berlin, Chicago, Auckland, Mexico City, Warsaw, Seattle and Venice.
Opening hours:
Tuesday – Friday: 9.00 – 19.00
Saturday and Sunday: 10.00 – 19.00
Closed on Mondays
Buy tickets for other exhibitions and attractions in Italy here!