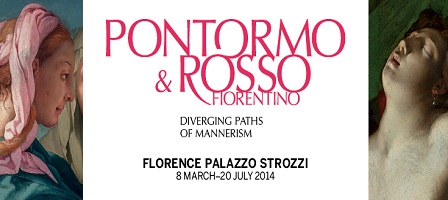 'Pontormo e Rosso Fiorentino. Divergenti vie della "maniera" '

Palazzo Strozzi, Florence
8th March – 20th July 2014
Until the 20th July 2014, Florence's Palazzo Strozzi plays host to a wonderful exhibition of the works of Pontormo and Rosso Fiorentino. These two artists, more than any of their contemporaries, rejected conformism during the period of 16th century art history referred to by the legendary biographer Giorgio Vasari as the "maniera moderna", the "modern style" which directly preceded the Mannerist movement.
Both artists were fiercely independent with deeply individual expressive voices, but both received their artistic formation under the same mentor, Andrea del Sarto.
Pontormo was a favourite of the Medici family, and was renowned for the variety in his work, and for the innovation he brought to pre-existing canons.
Rosso Fiorentino was more attached to tradition, and tended to add to the foundations that were already in place, adding strokes of originality influenced by elements of cabalism and esotericism.
Don't miss this unique chance to see the art of these two great masters side-by-side, in a wonderful collection created by bringing together pieces from across the globe.
Opening hours:
Monday to Friday, 09.00 – 13.00, 14.00 – 18.00