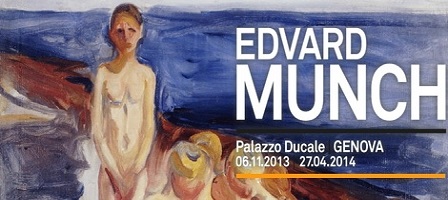 'Edvard Munch'
Palazzo Ducale – Genoa
6th November 2013 – 27th April 2014
Running until the 27th April, it's your last chance to visit this retrospective of the work of Edvard Munch in Genoa's Palazzo Ducale.
The exhibition is curated by the director of the Pinacothèque de Paris Marc Restellini, and aims to celebrate the legacy of the great Norwegian artist on the occasion of the 150th anniversary of his birth. This is achieved both through a collection of his pieces, on loan from various galleries and collections across the world, and through the debut of "Warhol after Munch", an "exhibition within an exhibition" featuring some pieces by Andy Warhol that were inspired by Munch's work.
The collection examines Munch's personal artistic and existential journey, while also looking at a more general artistic progression from impressionistic naturalism to a bold new style of painting that would shake up 20th century artistic production.
Munch deliberately went against all that he had known and seen, and all that he had been taught in terms of impressionism, symbolism and naturalism, in order to separate himself from convention and create a new vanguard characterised by the breakdown of "walls" concerning rules and techniques. He experimented with a mix of methods, paints, colours, photographs, frames from films, all in his desperate attempt to create something new and not derivative.
For these reasons, Restellini calls Munch the "missing link" between Picasso, Braque, Dubuffet and Pollock in the history of modernism, and this spotlight on his work should not be missed.
Opening hours:
Monday 14.00 – 19.00
Tuesday – Sunday 9.00 – 19.00