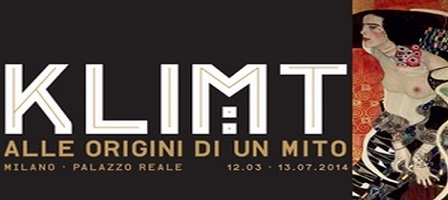 'Klimt. Alle origini di un mito'
Palazzo Reale, Milan
12th March – 13th July 2014
If you're planning on visiting Milan in the next few months, add this fantastic exhibition, running until the 13th July, to your itinerary.
For the first time, the Palazzo Reale hosts some of Gustav Klimt's most famous works, on loan from some of the world's most prestigious museums. The exhibition presents 20 of his oil paintings and an assortment of some of his other artworks, accompanied by the work of the artists who were close to him, for a total of over 100 pieces.
An entire room is dedicated to the original reconstruction of the "Beethoven Frieze", first displayed in the Secession Building in Vienna in 1902. This extraordinary piece closes the exhibition, creating a sense of total artistic immersion for visitors to the Palace.
The organisers' principal aim is to create a journey through Klimt's familial and emotional relationships, ranging from his beginnings in Vienna's University of Applied Arts to his love of theatre and music. All of these experiences are expressed through his most important works, many of which are on show: among these are masterpieces such as "Adam and Eve", "The Sunflower" and "Moving Water".
Opening hours:
Monday 14.30 – 19.30
Tuesday, Wednesday, Friday, Sunday 9.30 – 19.30
Thursday and Saturday 9.30 – 22.30